We are family, so we treat each customer as one of our own
Everyone wants their family members to experience an honest and fair car buying experience. Since 1937, Progressive Chevrolet has served the Massillon community and surrounding areas with quality, dependable vehicles. Treating our customers like family is a standard that has been passed down for decades, and it's a mission that still drives us today.
Get to know the four generations behind Progressive Chevrolet.
First Generation - J.S. "Sandy" Sanders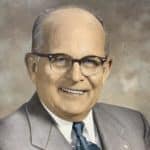 Progressive Auto Group started humbly in 1937, with J.S. Sanders founding the first dealership in Wilmington, Ohio. He relocated to Massillon's Erie Street in 1939, and the business continued to pick up speed. J.S. started the company's tradition of giving back in 1950, creating the Progressive Civic Fund, which is still active today. In 1953, he established a new Massillon dealership along Lincoln Way, near the viaduct.
Second Generation - Coleman "Coke" and Charles "Pitt" Sanders
J.S. Sanders' sons took charge of the business and opened a new location in 1977 at 8000 Hills and Dales Road NW. That dealership became the Progressive Chevrolet we know and love today. In honor of their father, the brothers opened the Sanders Wildlife Rehabilitation Center at Sippo Lake Park which was gifted to Stark Parks in 1982.
Third Generation - Dan and Ted Sanders
In 1979, after working their way through the ranks of the business, Dan and Ted Sanders, sons of Coleman "Coke" Sanders, became the next generation at the helm. During their time in the driver's seat, the brothers opened Progressive Chrysler Dodge Jeep Ram, down the road from Progressive Chevrolet.
Fourth Generation - Craig and Tim Sanders
Sons of Dan Sanders, Craig and Tim Sanders are the current faces of Progressive Chevrolet, taking the wheel in 2012. They manage strategic oversight and day-to-day operations of Progressive Chevrolet as well as Progressive Chrysler Dodge Jeep Ram, the Economy Auto Outlet and the company's car wash location, Star Wash.
Progressive Chevrolet Today
Backed by more than 80 years of family history, Progressive Chevrolet has raised more than $500,000 for various local causes and the J.S. Sanders Award is still presented by The Massillon Chamber of Commerce to individuals who have demonstrated their loyalty and commitment to improving the Massillon community.
The Sanders legacy is one of integrity, honesty and leadership, and we can't wait to welcome you to the family. Learn more about our dealership or contact the Sanders brothers today to get started on your car buying journey!