Why Buy 2017 Chevy Trax near Akron l Massillon OH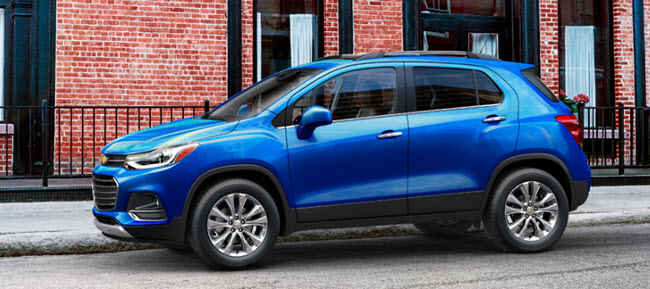 Why Buy 2017 Chevy Trax

You may be asking yourself a very important question right now. Why buy 2017 Chevy Trax near Akron? This small SUV is designed for the city. It's large enough to be able to lug all your year, and it's small enough to make it efficient for use in the city. You'll have outstanding performance, plenty of cabin space and a machine that is truly designed to help you get more done. Come check out our Massillon Chevrolet area dealer to discover why this vehicle is number one on so many people's list. Every detail of this vehicle is carefully laid out to ensure you have the best possible experience.
Interior
When you contact Progressive Chevrolet serving Akron and Massillon Trax shoppers, you'll be able to get inside this vehicle and find out about the interior for yourself. It's got plenty of tech to keep you and your passengers happy, and you'll love the fact that this vehicle is designed from the ground-up to be intuitive and smart. From the hands-free technology to the robust entertainment features, this vehicle has it all and we have a model with the options that will suit your needs. Why buy 2017 Chevy Trax near Akron? Simply put, it's one of the sleekest vehicles available on the market, and it's highly affordable for most any budget. This vehicle has features that are both practical and functional. You'll be able to enjoy a dual=cockpit function that makes controls simple to access whether you're the driver or the passenger. Come check it out today.
Exterior
To fully experience the Chevy Tax, you need to come down to our Massillon Chevrolet area dealer and explore it for yourself. This vehicle is beautiful on the inside, but the outside is practical, aerodynamic and fun. Some stylings include the halogen projector that comes with an LED signature lighting panel, a sports stance that is also rugged and a dual-port grille that makes this vehicle exceptionally rugged. When you contact Progressive Chevrolet serving Akron and Massillon Trax shoppers, you'll get to explore the signature lighting that lines the side of the vehicle. It also comes with an optional set of 18-inch 5-spoke chiseled wheels. It doesn't matter where you're going, this vehicle will get you there in style and people will notice as you pull in. It's the ideal car for the busy family, professional business person or even a musician who needs to carry their gear.
Powertrain
Why buy 2017 Chevrolet Trax? You need a car with exceptional performance. This vehicle offers an AWD option and it comes with a 1.4-liter turbo engine standard. To really appreciate how much power that provides in this small SUV, you need to take a test drive. When you come down to our Massillon Chevrolet area dealership, you'll be able to experience all of the power and performance this vehicle has to offer. From the exceptionally smooth suspension to the responsive brakes, this vehicle is a dream to drive. Make sure you contact Progressive Chevrolet serving Akron and Massillon Trax shoppers to get a superior offer and excellent customer service that will have you telling all your friends.
Mechanical
Want to know more about the 2017 Chevy Trax mechanical aspects? Contact the internet professionals at Progressive Chevrolet for more details, pricing and features. Progressive Chevrolet is your top source for Chevy Trax information.
Safety
A vehicle can have all of the technological innovations in the world, but all of that means nothing if it can't keep you safe in an accident. The 2017 Chevy Trax is built from the ground up with safety in mind. You'll have a host of active and passive safety features that are designed to make your trip safer. When there is an impending hazard, there are technologies built-in that are designed to warn you and help protect you in the event of an accident. Start with the 10 built-in airbags, and you'll begin to see why safety is a priority for Chevy. The vehicle also comes with lane departure warning systems, a rear cross traffic alert system and a forward collision alert system to prevent your vehicle from getting blindsided. While the best safety feature in the car is your ability and skill at driving, we could all use a little help sometimes to avoid minor accidents. The safety mechanisms are built around three basic principles. First, to prevent an accident, then to protect you in an accident and finally to help you respond to an accident. Why buy 2017 Chevrolet Trax? Because it's safe. Why buy 2017 Chevy Trax near Akron? If you're still asking yourself this question, you need to give your Massillon Chevrolet area dealer a call. We'll give you all the information you need to help you make the right buying decision. We can even give you a quote or find a special for you to help make this vehicle more affordable. We're here to help, and we want you to become a customer for a long time to come by choosing us for all your automotive needs. We want you to contact Progressive Chevrolet serving Akron and Massillon Trax shoppers so that we can help you get the best deal possible on your next vehicle purchase. The new 2017 Chevy Trax is built to accommodate most any needs, and we're certain we can provide you superior service and support. The question isn't why buy 2017 Chevrolet Trax? The real question is why not? Come down and we'll help you get set up and ready to drive today.
DISCLAIMERS
*The above information is regarding the base model 2017 Chevy Trax. Standard specs and features may change from year to year. Contact Progressive Chevrolet with any questions regarding the new or used vehicle you're inquiring about.