Why Buy 2017 Chevy Camaro ZL1 near Akron l Massillon OH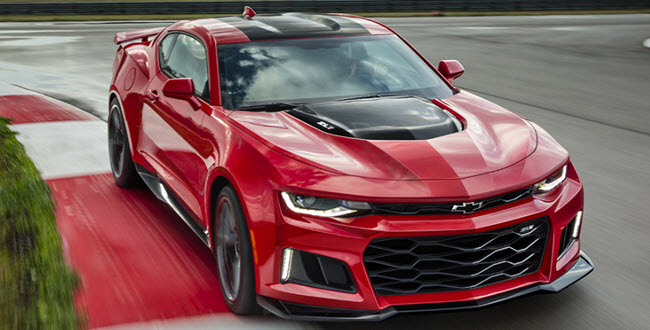 Why Buy 2017 Chevy Camaro ZL1
The all-new 2017 Camaro ZL1 has the entire muscle car world waiting in anticipation. It will be the most thrilling ZL1 model to ever hit the market. If you have always wanted to own a high-performance driving machine, now is your perfect opportunity. The Camaro ZL1's mesmerizing power and stunning design is destined to leave all of your friends in awe. Contact Progressive Chevrolet serving Akron and Massillon Camaro ZL1 shoppers for more information. As soon as this dynamic sports car hits the lot, Massillon Chevrolet fans will be able to take it for a test drive.
Interior
Why buy 2017 Chevy Camaro ZL1 near Akron? Chevy definitely went the extra mile when developing the Camaro ZL1's interior. As soon as you sit in the driver's seat, you will immediately notice the cabin's race-inspired cabin. A flat-bottom steering wheel enables you to make quick turns on the street and at the track. Cool enhancements such as the suede shifter make the new Camaro ZL1 even more stylish. Red stitching makes the standard Recaro seats stand out from the crowd. While there is no overlooking the coupe's mind-blowing power, it is still comfortable enough to take on an out-of-town road trip. You will also have several high-end technologies at your disposal. An advanced gauge cluster provides real-time performance data. Featuring 4G Wi-Fi connectivity, GM's innovative OnStar communications continues to receive excellent reviews. Meanwhile, mobile phone users can take advantage of Apple CarPlay and Android Auto. Some of the other goodies include a high-resolution infotainment screen, an exclusive Performance Data Recorder, and a booming audio system. Contact Progressive Chevrolet serving Akron and Massillon Camaro ZL1 shoppers for more information.
Exterior
Why buy 2017 Chevrolet Camaro ZL1? The Camaro ZL1's menacing appearance will certainly catch your attention. Although it has a lot of similarities with the base Camaro, it is far more aggressive. Not only does the car's vented hood look extremely muscular, but it also helps keep the monstrous engine as cool as possible. Large cooling ducts have also been placed along the front bumper. To ensure that the ZL1 maintains the optimum airflow, even the front grille features a hollowed-out Chevy badge. The car's road-hugging stance makes it look fearsome from all angles. Wrapped in a set of super-wide tires, the 20-inch aluminum wheels give the sports car an extra intimidation factor. On the rear, a quad-outlet exhaust system provides the Camaro ZL1 with an intoxicating rumble. Equipped with an automatic soft top, the convertible model is perfect for cruising along the highway on a beautiful day. Stay tuned to learn more about the available paint colors. Massillon Chevrolet customers can choose from several accessories. Don't miss out on your chance to own one of the hottest-looking automobiles on the street.
Powertrain
Why buy 2017 Chevrolet Camaro ZL1? When it comes to sheer performance, no other muscle car will be able to rival the 2017 Chevy Camaro ZL1. With a staggering output of 640 horsepower and 640 pound-feet of torque, the supercharged V-8 engine has the ability to leave passengers in amazement. Although the official 0-60 times have yet to be released, the new ZL1 will be noticeably quicker than the previous model. Chevy also introduces a 10-speed automatic transmission. The extra gears will enable the ZL1 to deliver class-leading lap times. However, some drivers will find the six-speed manual gearbox to be especially satisfying. Keep in mind that the Camaro ZL1 is more than just a fast muscle car. It handles the road with an unbelievable level of poise. All versions of the 2017 Camaro ZL1 come equipped with a legendary Magnetic Ride suspension. This innovative suspension system instantaneously adjusts to small changes in the pavement.
Mechanical
Want to know more about the 2017 Chevy Camaro ZL1 mechanical aspects? Contact the internet professionals at Progressive Chevrolet for more details, pricing and features. Progressive Chevrolet is your top source for Chevy Camaro ZL1 information.
Safety
Why buy 2017 Chevy Camaro ZL1 near Akron? There is no denying the fact that Chevrolet has a reputation for engineering well-built vehicles. With so much power on hand, you need a strong braking system. The ZL1's large Brembo brakes offer superior stopping power. A high-tech traction control system keeps the car under the control at all times. You will definitely love the enhanced visibility provided by the rear-view camera. Several active safety features will be available as well. Like the rest of the Camaro lineup, the new ZL1 offers exceptional impact protection. Contact Progressive Chevrolet serving Akron and Massillon Camaro ZL1 shoppers for updates. More information will be revealed closer to the ZL1's official release date. Why Buy 2017 Chevy Camaro ZL1 near Akron? You can always look forward to getting the best possible deal. Before you even head out to the dealership, you can obtain a quote online. Feel free to request more information about the current specials. Massillon Chevrolet shoppers can look forward to receiving huge savings. The dealership's hardworking finance department wants every customer to leave the lot feeling satisfied. Why buy 2017 Chevrolet Camaro ZL1? The 2017 Chevy Camaro ZL1 is a dynamic sports car that is destined to take the automotive world by storm. Be sure to request more information on this thrilling ride.
DISCLAIMERS
*The above information is regarding the base model 2017 Chevy Camaro ZL1. Standard specs and features may change from year to year. Contact Progressive Chevrolet with any questions regarding the new or used vehicle you're inquiring about.