Why Buy 2016 Chevrolet Tahoe near Akron l Massillon OH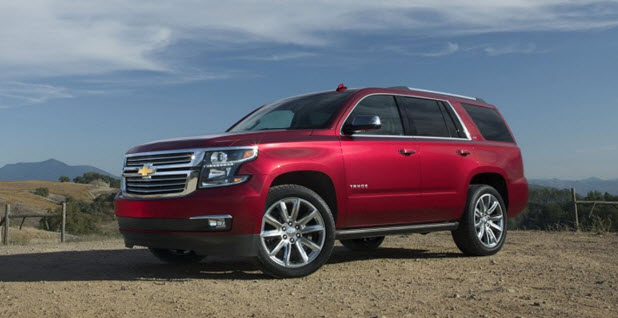 Why Buy 2016 Chevy Tahoe

Once you deal with our professional Massillon Chevrolet dealership, you won't have to ask the question, "Why buy 2016 Chevy Tahoe near Akron?" The reason is simple, this vehicle is an outstanding vehicle to have around, and it can help make your life easier and more enjoyable. This full-size SUV is capable of giving you all the power you need to tow a trailer, and it has plenty of cabin room to store your equipment. Your passengers will be riding in style and enjoying the premium-quality components and smooth ride that this vehicle offers. It also has a host of entertainment features to make every ride a party for your passengers. Contact Progressive Chevrolet serving Akron and Massillon Tahoe shoppers, and get your new Tahoe before the summer hits.
Interior
Why buy 2016 Chevy Tahoe near Akron? Because you'll be able to accomplish most anything with this strikingly beautiful vehicle. The interior offers all kinds of available options to help make your ride more enjoyable. While our inventory may vary, we have models that make it possible to access 4G LTE Wi-Fi technology and a full host of hands-free technologies to make it safer to drive your vehicle while staying connected to family and friends. Your Massillon Chevrolet area dealer is excited to go over all of the interior features that this beast has to offer, and we'll go over everything in your test drive to make sure you know how the vehicle works. Contact Progressive Chevrolet serving Akron and Massillon Tahoe shoppers, and find a 2016 Chevy Tahoe that's right for you. We promise you won't leave our dealership until you know the exact answer reasons to answer your "Why buy 2016 Chevrolet Tahoe?" dilemma.
Exterior
Why buy 2016 Chevy Tahoe near Akron? The exterior is stylish, aerodynamic and pushes the boundaries of what an SUV can accomplish. The moment you see this vehicle, you'll realize that it makes a striking impression. It has sculpted side panels that provide an athletic look and feel. It demands attention with its sound-isolating design that makes the interior quieter than ever. You'll enjoy outstanding attention to detail, and this vehicle is the definition of refinement. Enjoy the optional sensor that sits under the rear bumper to make it easier to open the liftgate. You'll also be able to enjoy great visibility with daytime running lights. Come and see our Massillon Chevrolet dealer and contact Progressive Chevrolet serving Akron and Massillon Tahoe shoppers. Why buy 2016 Chevrolet Tahoe? Because it's a vehicle that is reliable and has an outstanding exterior styling.
Powertrain
Why buy 2016 Chevy Tahoe near Akron? Because there is an engine that will meet your needs. The maximum available horsepower is 355, which is enough to ensure that you can take the entire family and a camper on vacation if you wish. The max engine offers a 5.3-liter V8 engine that is capable of helping you get more out of your day. You'll also enjoy the clean, smooth driving with the outstanding drivetrain. Come down and get a test drive at your Massillon Chevrolet area dealer and contact Progressive Chevrolet serving Akron and Massillon Tahoe shoppers to find out what kind of incentives and offers we can provide you with.
Mechanical
Want to know more about the 2016 Chevrolet Tahoe mechanical aspects? Contact the internet professionals at Progressive Chevrolet for more details, pricing and features. Progressive Chevrolet is your top source for Tahoe information.
Safety
Safety is one of the best answers for the question, "Why buy 2016 Chevrolet Tahoe?" Your car means nothing if it can't protect you in the event of an accident. The vehicle comes with side blind zone alert systems, lane keep assist and front park assist systems to help you prevent an accident. If you are in an accident, you'll enjoy seven airbags and a high-strength steel safety cage to protect your family. After the accident, you'll enjoy response systems that are designed to get you the help you need and quickly. OnStar can be activated to ensure you get the best possible service and you'll love the ability to stay in contact with an advisor to answer any of your questions. The vehicle is outstanding when it comes to safety, but it's also extremely secure. There is an available theft protection package that is designed to help you protect the belongings inside your vehicle. While there is no substitute for a safe driver, this vehicle can give you the tools you need to make better decisions about changing road conditions. Contact our dealership to request quotes or specials about the Tahoe. We can answer any of your questions, and we'll do our best to help you get into a vehicle that you're thrilled about. When it comes to finding the vehicle that matches your personality and needs, we're experts. We can help you select just the right options to ensure that you only buy the amount of vehicle you actually need. When it comes down to it, we don't just want to sell you a car. Our dealership is committed to helping you to find the vehicle that will last you a long time and make you a satisfied customer. The 2016 Chevy Tahoe is an outstanding vehicle, and we'd love to have the chance to show you around. Give us a call and come on down to our dealership to get a test drive today. We'll go over your options, and we can help you get a vehicle that fits your budget and needs.
DISCLAIMERS
*The above information is regarding the base model 2016 Chevrolet Tahoe. Standard specs and features may change from year to year. Contact Progressive Chevrolet with any questions regarding the new or used vehicle you're inquiring about.