Why Buy 2016 Chevrolet Malibu near Akron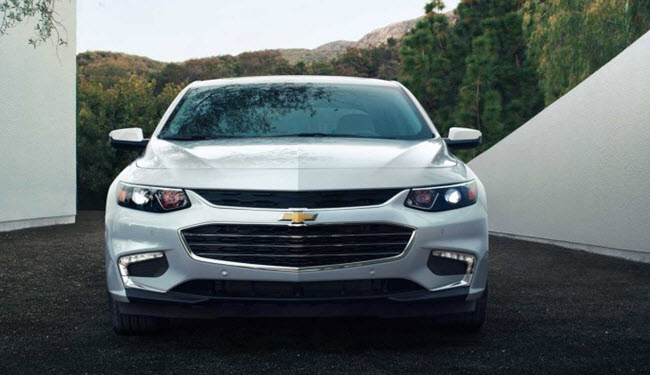 Why buy 2016 Chevy Malibu
Come by and see your Massillon Chevrolet area dealer to find out why this mid-size car is designed to give you a reliable, performance-enhanced and technologically innovative vehicle. When you contact Progressive Chevrolet serving Akron and Massillon Malibu shoppers, you'll get the advantage of finding a vehicle that is designed specifically for the tasks you complete most often. Whether you're dropping off kids at soccer practice or you need to attend a business meeting the Chevy Malibu is one of the sleekest and most stylish vehicles on the market today. Why buy 2016 Chevrolet Malibu? Because it's quite simply one of the most drivable and feature-packed cars out there. Your Massillon Chevrolet area dealer is here to help you. Contact Progressive Chevrolet serving Akron and Massillon Malibu shoppers for the latest incentives and offers.
Interior
Why buy 2016 Chevrolet Malibu from our Massillon Chevrolet dealership? When you see the stock we have on hand and the luxurious interior, you'll begin to understand. Every dealership carries different versions of each model with different options and features. Our dealership aims to give you the options you want at a price you can afford. This allows us to keep the cost of the vehicle down and help you get the most car for your money. This mid-size vehicle has all of the technological innovations you could desire, and you'll enjoy hands-free communication, navigation systems and smart electronics that are designed to make your life easier. With a variety of interior options to choose from, you're sure to find the perfect vehicle at our dealership.
Exterior
Why buy 2016 Chevy Malibu near Akron? Because once you see the exterior of this vehicle, you'll have no choice but to take one home and make it your own. The exterior offers slick, sleek styling that is both functional and aesthetically pleasing. It features a dynamic, windswept body and possesses an agile stance that gives it a powerful and capable look. LED daytime running lamps help keep you visible on the road at all hours of the day, and the available LED taillamps help to make the vehicle stand out. The entire vehicle is set up to be intuitive and inviting, and you won't have to second-guess yourself when you choose this model. It has everything you need and none of what you don't. Contact Progressive Chevrolet serving Akron and Massillon Malibu shoppers, and you can check out the dual exhaust outlets that make this vehicle's design simply out of this world. You'll love this vehicle and the exterior styling is just one answer to answer the question, "Why buy 2016 Chevrolet Malibu?"
Powertrain
Why buy 2016 Chevy Malibu near Akron? It has a turbocharged engine to start with, but you'll also be able to get a more powerful engine if that's what you desire. The best way to find out what we have in stock is to give us a call at our Massillon Chevrolet location, and contact Progressive Chevrolet serving Akron and Massillon Malibu shoppers for the latest inventory and deals. The vehicle has outstanding performance features, and you'll love how well this vehicle handles. When it comes to performance and efficiency, this vehicle simply can't be beaten. For premier performance, choose a 250-horsepower engine that offers a 2.0-liter system and eight-speed automatic transmission.
Mechanical
Want to know more about the 2016 Chevy Malibu mechanical features? Contact the internet professionals at Progressive Chevrolet for more details and pricing. Progressive Chevrolet is your top source for Chevy Malibu information.
Safety
Why buy 2016 Chevrolet Malibu? Because it's a safe and secure vehicle. No expense has been spared in the safety department. You're going to love the many active safety technologies that will make driving this vehicle more intuitive and safer on the road. Active and passive features are included so that you're protected no matter what the situation. The vehicle comes with a comprehensive airbag system, and it uses a unique sensing system that detects crashes from all sides. This allows the airbags to deploy in the safest manner possible and at the velocity necessary to avoid injuring your passengers. You'll also enjoy several preventative accident features that are designed to alert you in the event of a pending accident. If you don't take action, the vehicle will. With this vehicle, you're less likely to hit a passenger, back up into a pole while parking or going outside of your lane without your knowledge. The vehicle is smart, and it acts to complement your driving habits to keep you safer on the road. Why buy 2016 Chevy Malibu near Akron? Because when you contact our dealership, we can find you the incentives that will help you to save money on your next purchase. We work hard to make every customer a lasting customer, and we want to ensure that you continue to come back to us for all your automotive needs. We aren't just interested in selling you a car, we want to help you select the car and options that fit your personality and personal style. Come check us out or give us a call and see how we can help you get into a vehicle and drive it home today. Don't waste any more time online. Pick up the phone and give us a call to find out why you should buy a 2016 Chevy Malibu today. This vehicle is designed to give you the ultimate in satisfaction and control, and we can help you select a vehicle with the options you need and want.
DISCLAIMERS
*The above information is regarding the base model 2016 Chevrolet Malibu. Standard specs and features may change from year to year. Contact Progressive Chevrolet with any questions regarding the new or used vehicle you're inquiring about.