Why Buy 2016 Chevrolet Colorado near Akron l Massillon OH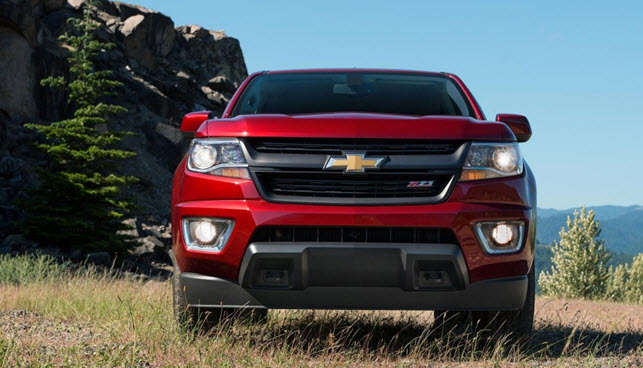 Why Buy 2016 Chevy Colorado
Why buy 2016 Chevy Colorado near Akron? Because our dealership is ready to serve you and give you personalized attention. We believe in the art of customer service, and our Massillon Chevrolet area dealer won't try to sell you a vehicle you don't want. The Chevy Colorado is one mighty beast of a truck, and it's got some outstanding features that really make it stand out from the crowd. It's the Motor Tend Truck of the Year for both 2015 and 2016. You have nothing to lose by coming in for a test drive, so come on down and find out why this vehicle can help you get more done. Contact Progressive Chevrolet serving Akron and Massillon Colorado shoppers, and find out the answer to the question, "Why buy 2016 Chevrolet Colorado?" for yourself.
Interior
Why buy 2016 Chevy Colorado near Akron? For starters, there is a lot to love about the interior. When you get the kind of outstanding performance you want from a vehicle like this, you also want to make sure the interior fits your needs. The options vary drastically between models on our lot, so the best option is to give us a call to see what we have available currently. We want to be your Massillon Chevrolet area dealer, so it's a good idea for you to contact Progressive Chevrolet serving Akron and Massillon Colorado shoppers to get a great deal. The 2016 Chevy Colorado comes with several options for seat materials, navigation systems and innovative technological innovations. Now is the best time to come and why the answer to the question, "Why buy 2016 Chevrolet Colorado, and to take one home today."
Exterior

Why buy 2016 Chevy Colorado near Akron? The exterior is chock-full of features. You'll enjoy several options to choose from, including a variety of wheels to choose from, different exterior trims and even a bed protection package. The truck offers the ability to include a bed net or view your belongings better at night with a cargo box light. Chrome door handles are just the beginning, and the vehicle offers a CornerStep rear bumper that is designed to help give you additional protection. Fog lamps are available, and you can also choose to take home a model with front and rear splash guards. The vehicle offers a highly aerodynamic structure, and it's one of the safest models available on the road today. Your Massillon Chevrolet dealer can help you sort through the available options and find a model that has the options you want. Contact Progressive Chevrolet serving Akron and Massillon Colorado shoppers, and find out why this vehicle is flying off the lot.
Powertrain
Why buy 2016 Chevy Colorado near Akron? We can find the vehicle with the powertrain and the mechanical features you need. Depending on our current stock, we can set you up with a 2.5-liter, 3.6-liter or 2.8-liter turbo. Regardless of which engine you choose, they all come with superior performance and you'll enjoy an outstanding ability to get more work done with a smaller truck. This truck proves that you don't need a full-size truck to perform big tasks. Your Massillon Chevrolet area dealer wants to help you get more accomplished and find the vehicle that suits your needs. Contact Progressive Chevrolet serving Akron and Massillon Colorado shoppers, and take home the truck that is perfect for your needs today.
Mechanical

Want to know more about the 2016 Chevy Colorado mechanical aspects? Contact the internet professionals at Progressive Chevrolet for more details, pricing and features. Progressive Chevrolet is your top source for Chevy Colorado information.
Safety
Why buy 2016 Chevrolet Colorado? The safety features are outstanding. You'll be able to enjoy a full complement of airbags to protect you and your passengers. Daytime running lamps help to make your truck visible day or night. Forward collision Alert is designed to protect you from a frontal collision, and the Lane Departure Warning system will ensure you don't have any side impacts when switching lanes. You'll also get a rear vision camera on most models, and you can enjoy enhanced stability with the StabiliTrak stability control system. A tire pressure monitor system is designed to ensure your tires are never low on air, and the passive and active safety features will keep you safe no matter what happens on the road. Reinforced steel helps to prevent intrusions into the cabin and carefully placed crumple zones are there to help absorb the impact of an accident. Don't sit there searching through online inventory in hopes of finding the perfect vehicle. Give us a call and we will help you find the vehicle that fits your needs and personality. We don't just want to sell you a vehicle. We want to sell you the right vehicle. When it comes down to it, we know you have a choice of the dealer that you choose to go with. That's why our service professionals are standing by and waiting to help you navigate the complexities of getting a new vehicle. We have a large inventory, and we're able to find a truck that will fit your needs and budget. Our customers become lifelong customers because we treat them with the respect they deserve. Find out why you should buy a 2016 Chevy Colorado by coming down to our dealership and checking out our inventory. Give us a call to schedule a test drive or stop by and surprise us! We're here to help you get the vehicle you want at a price you can afford.
DISCLAIMERS
*The above information is regarding the base model 2016 Chevrolet Colorado. Standard specs and features may change from year to year. Contact Progressive Chevrolet with any questions regarding the new or used vehicle you're inquiring about.