Test Drive 2017 Chevy Silverado by Canton Ohio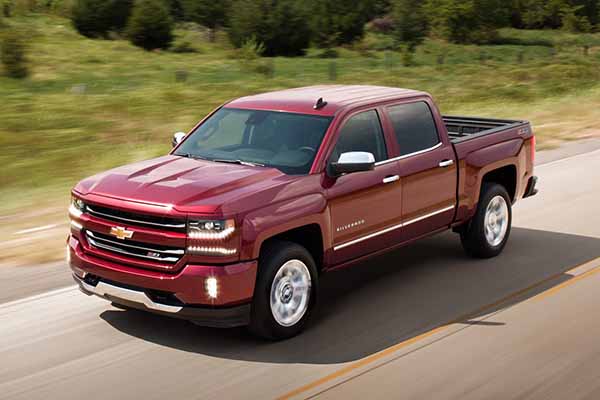 The Impressive 2017 Chevrolet Silverado
Would you like to test drive 2017 Chevrolet Silverado by Canton Ohio standards during the winter? Some drivers shrink from the idea of conducting a roadway test during frigid temperatures. Yet in Northeastern Ohio, we've learned to live with cold wintertime conditions. People in this part of the state regularly commute to work and school during chilly weather. When you search for a reliable vehicle, you'll want one capable of transporting you comfortably even during January, February or March. Whether you plan to use your next vehicle mainly in town, or for performing tasks on the farm, you'll require a durable, well-built ride. Let us showcase the Silverado for you right now, so you can really appreciate how well this acclaimed brand performs under Canton-area conditions.
Slip Into Interior Comfort
When you visit your local dealership serving Canton Massillon Akron Ohio and surrounding areas, we'll show you some examples of the Silverado. This legendary pickup offers several trim models, including the 1500 and the 2500HD. Take a moment now to envision pulling open the driver's door for the first time and slipping behind the wheel. You'll appreciate why Chevrolet has produced so many generations of this attractive vehicle. With is very quiet interior cabin, comfortable seating and intuitive command console, you'll probably notice features you'd like to explore in greater depth. Did you know, you can select available 4G LTE Wi-Fi connectivity for this pickup? Use this high tech capability to remain Internet connected even during long road trips. If you travel for business or recreation, the available mobile hot spot offers great convenience. When you contact Progressive Chevrolet, let us know about interior features and available options of most interest to you.
Test Drive This Good Looking Vehicle Soon
Taking a test drive may help you decide which trim model of the 2017 Silverado you prefer. We can show you some examples of this pickup's exterior standard and available paint colors and available truck bed options. For instance, today customers enjoy a number of attractive choices for customizing the truck bed. Which size do you prefer? Ask us to let you compare different available selections. We can also demonstrate features which furnish extra protection for the surface of the Silverado against harsh winter weather, such as the available durable spray-on bed liner. Simply let us know the ways you expect to use your pickup and we may offer suggestions for available exterior options which might appeal to you. Your dealership serving Canton Massillon Akron Ohio shoppers possesses extensive experience with conditions in this area and we have benefited from the feedback received from numerous delighted local Chevy Silverado drivers.
Appreciate Mechanical and Powertrain Durability
When you visit Progressive Chevrolet, tell us which aspects of the 2017 Chevrolet Silverado excite you. We'll strive to answer your questions, and research any available features which you might choose to include in your new pickup. By using our marketing team as a resource, you'll gain access to a wealth of information about different mechanical and powertrain systems. We can even help match your truck's horsepower to desired uses for the vehicle. For example, ask us about the available Trailering Package or the different available engine options in specific trim models. We want to assist you in customizing your Silverado in a way which makes this pickup useful to your household!
Chevrolet Considers Safety Important
When you contact Progressive Chevrolet to schedule a road test, also let us know about your interest in available driver alert technologies. For example, Chevrolet offers an available Hillside Assist system which interests people planning to use the Chevy Silverado in hilly terrain. For example, if your property includes an inclined area, you might want to consider adding this available feature to your next pickup just to make parking and towing in that area more convenient. Chevrolet places a high priority upon safety. Some built-in features of the Silverado, such as its reinforced solid steel framework and Traction Control System enhance safer driving. Although no one can guarantee accidents won't ever occur on the road, Chevrolet strives to protect occupants of the 2017 Chevrolet Silverado. Safety restrains, reliable anti-lock brakes, driver and passenger air bags and even the well-engineered steel reinforced vehicle framework all contribute towards this goal.
Contact Progressive Chevrolet to Get Started!
This review contains both opinion and limited information. For complete details about the awesome Silverado brand, contact your local Chevrolet dealership. We'll help you research specific features which interest you. Investing in a reliable truck represents a significant undertaking for most households in northeastern Ohio. With our bitterly cold winter weather, you'll want to select a reliable vehicle suited for your needs during every season of the year. That's one reason we recommend arranging to test drive 2017 Chevrolet Silverado by Canton Ohio local roadway standards. When you see how well this pickup performs in our area during winter months, you get a better sense of its durability and overall potential! Call us now to let us know when you'd like to give one of the 2017 Silverados in our inventory a road test under local conditions. Let us know how you plan to use your next pickup, so we can demonstrate some of the options or special packages which interest you. Don't wait until warm Spring days arrive to experience the pleasure of driving a Silverado. Put this hardy vehicle to the test during the coldest months of the year. Do it now! Call us today to reserve your personal winter test drive date!