Test Drive 2017 Chevrolet Trax by Canton OH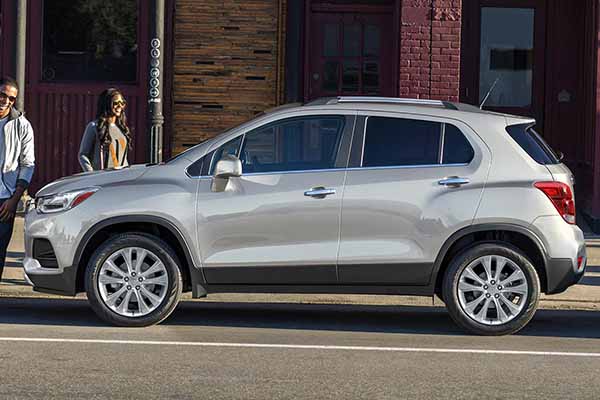 Test Drive 2017 Chevrolet Trax by Canton Ohio
The 2017 Chevrolet Trax is a low cost sporty little option for the budget-conscious crowd. The model lacks nothing when it comes to features and accommodations, however. You would never know it had a lower price tag than some of the high-end SUVs just by looking at its features. The Trax is fully loaded and ready to take you and your family wherever you need to go. You can take it on a vacation, business trip or a random drive to the end of the earth. It will be your companion the whole time, and it will provide you with comfort and convenience. The following is some information about the model the you can take with you when you visit the dealership looking for a car to drive home. Talk to the specialist about any of these things that you find interesting.
The 2017 Chevrolet Trax Interior
The interior in any vehicle that you buy needs to be one that is both spacious and accommodating. The Trax provides you with everything that you need to have an enjoyable trip to anywhere you want to go. First, your seating will be utterly consoling. It will be soft enough to make you feel comfortable, but not so soft that it makes you all asleep. This car is a cute little option that has a lot of room. You will have enough room to fit items that you would need for camping, cycling, playing music, and more. You can arrange your seating one of eight different ways according to your passengers' needs. Additionally, you will have an abundant amount of cubbies, cup holders and compartments. All of your passengers and you will be happy in this vehicle. contact Progressive Chevrolet serving Canton Massillon Akron Ohio and schedule and ask for more information about the vehicle.
2017 Chevrolet Trax Exterior
The Trax has a fantastically fun-filled exterior. The smiling wide grille and LED lighting give it a happy face that appeals to the younger crowd. It's indentation give it the stylish edge that it needs to impress the more serious class. Everything comes together nicely to form a marvelous shell that will turn heads for many miles. Color options that you have available to you for the exterior are options such as Blue Topaz Metallic, Crimson Metallic, Red Hot, Summit White, Nightfall Gray Metallic, Mosaic Black Metallic and more. Choose the color that best fits your personality, and you will be happy with the outcome. Contact Progressive Chevrolet serving Canton Massillon Akron Ohio to review everything.
Chevy Trax Mechanical Features
The Trax comes with a lot of technological and mechanical features. One of the features that you will have access to is 4G LTE Wi-Fi. Wi-Fi is boss in any vehicle because it automatically makes that vehicle super-accommodating. Your passengers can do their school work or work chores from your vehicle if they have a Wi-Fi Connection. They can finish business projects, watch movies, stream music or simply keep up with their friends on social media networks. That will make riding with you highly desirable. Other features that you will have access to are features such as Android Auto, My Chevrolet mobile app, Apple CarPlay and the like. The Apple CarPlay and Android Auto app are apps that will enable you to listen to the music that you love. The mobile is what will give you control to lock and unlock your car from a distance.
Chevy Trax Safety Features
Safety is one of those primary elements that you cannot skimp on when you shop for a vehicle. Some of the safety features that you will have access to in this vehicle are features such as the Lane Departure Warning, Rear Cross Traffic Alert, Rear Vision Camera, Blind Zone Alert, Forward Collision Warning and more. Manufacturers are starting to put Lane Departure Warning into every car now. It lets you know you are traveling out of your lane and are on the verge of committing a foul. As soon as you realize that you are drifting, you can make moves to get back in line. The other features give you eyes around your vehicle that they wouldn't normally have. They are designed to keep you safe even in the midst of danger.
Test Drive 2017 Chevrolet Trax by Canton Ohio
Call now if you want to test drive 2017 Chevrolet Trax by Canton Ohio. The Trax looks amazing on paper. It looks gorgeous on a web page. You may even be ready to buy it now, but you cannot skip the test drive. The test drive will give you a chance to get to know the vehicle on an intimate level. You can cruise down the road with the salesperson and experience the power and precision that you have behind the wheel. You can play with all the little gadgets that the vehicle has and also get a feel for whether or not the seats provide you with enough comfort and lumbar protection. At the end of your journey, you can speak to a caring financial expert about what you need to do to gain approval so you can drive home in a brand new Trax. Make sure you take your pay stubs and other important information with you when you visit the dealership. The specialist will need all that information so that she can help you.