Test Drive 2016 Chevy Trax near North Canton OH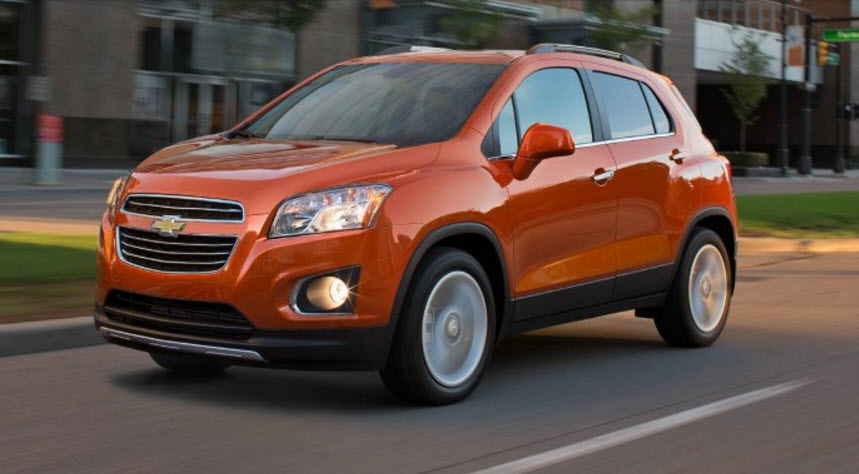 Test Drive 2016 Chevy Trax near North Canton OH

Although they were born to take on the roughest backcountry as easily as any paved surface, the latest trend in SUVs is to put them on a diet and focus their capabilities on cityscapes. One new entry in this category is the Chevy Trax. The 2016 Chevy Trax North Canton residence can enjoy on their urban streets comes in six trim packages. Starting with the LS base model, the lineup includes the more feature-laden LT while the LTZ supplies the most extensive array of additions. There are two-wheel and all-wheel drive versions of each type. The following descriptions should give you a good idea of what it can offer, but a test drive will present the clearest picture.
Interior
With its emphasis on vertical space, the 2016 Chevy Trax North Canton residents will enjoy furnishes a surprising amount of clearance for people and possessions alike. Front headroom reaches 39.6 inches while legroom extends to 40.8 inches. In the back, headroom is 38.8 inches with 35.7 inches of legroom. Normally, there's 18.7 cubic feet of storage in the back, but with the back row of seats folded away, this expands to a remarkable 48.4 cubic feet. The 60/40 rear seat split can also be combined with the fold-down front passenger seat to accommodate cargo up to 8 feet long. Test drive 2016 Chevy Trax to witness this roominess. Complementing this spaciousness are black, light titanium, or brownstone cloth seats. On the LTZ version, this is replaced with leatherette seating. All trim packages include cabin luxuries like air conditioning, air filtration, a 7-inch color touch screen display, 6 cup holders, Bluetooth capability, a USB outlet, and 4G LTE Internet access. Schedule your test drive at Progressive Chevrolet to experience the fun.
Exterior
At roughly 14 feet long, the Trax is small enough to maneuver easily through traffic. A test drive will confirm this. The vehicle possesses a classic SUV profile with four doors, a top-hinged rear hatch, and a height of 5 feet, 5 inches that gives the driver a clear view of their surroundings. There's a choice of twelve colors including Champagne Silver Metallic, Blaze Red, and Brilliant Blue Metallic. Making it all roll, the LS model comes with 16 inch steel rims with the upgrade option of painted aluminum. The LT version relies on 16 inch aluminum alloy. Finally, the LTZ also provides aluminum but steps up to 18 inches. Test drive 2016 Chevy Trax to see how these different wheels affect the ride. Completing the exterior details of this stout, compact SUV are halogen headlights and an intermittent rear wiper. Both the LT and LTZ trims include side roof rails with the option of a full luggage rack. They also have the option of a power sunroof you'll appreciate when you schedule your test drive at Progressive Chevrolet.
Powertrain
At the heart of all versions of the Chevy Trax is the 1.4 liter Ecotec 4-cylinder engine. Joined with a standard six-speed automatic transmission, this turbocharged power plant offers 138 horsepower and gas savings of 26 mpg in town and 34 mpg in the country. Tossing in the all-wheel drive feature pulls average mileage down by a couple points. The engine's top torque rating of 148 pound-feet is attained with as little as 1,850 rpm. Test drive 2016 Chevy Trax near North Canton in Massillon to see how this output takes the Trax from zero to 60 mph in just 9.4 seconds.
Mechanical
Between the rain, ice, and snow, there's plenty of dangerous driving conditions in Ohio. The 2016 Chevy Trax North Canton denizens should test drive comes with an all-wheel drive option. This mechanical linkage, when activated, constantly checks traction in each wheel and focuses power where road contact is highest for the most effective results. Schedule your test drive at Progressive Chevrolet to see how this option improves handling. Whether using FWD or AWD, the Trax comes standard with electric power steering. In addition, test drive 2016 Chevy Trax to appreciate the front suspension system using MacPherson struts to absorb the rough spots on the road.
Safety
The 2016 Chevy Trax North Canton commuters are looking forward to is as solid as it appears. A five-star overall rating from the NHTSA provides the first line of defense. Backing this up on all models are anti-lock brakes, StabiliTrak control system, tire pressure monitoring, a rear view camera, and no less than ten airbags. Four anti-lock disc brakes are supplied with the AWD option. The ten airbags include face and knee protection for front passengers as well as upper and lower side protection for front and back occupants. The LTZ model also includes backup parking assistance technology that's optional on the LT version. If the worst happens, OnStar stands ready on all models to alert the authorities of your location and situation. Test drive 2016 Chevy Trax near North Canton in Massillon to get the full details on these safety features. Drive Time: This Chevy is taking a lead among a new generation of SUVs meant to ramble through urban canyons and down suburban trails. Test drive 2016 Chevy Trax near North Canton in Massillon to totally appreciate its compact maneuverability, roomy interior, fuel economy, and luxurious additions.
DISCLAIMERS
*The above information is regarding the base model 2016 Chevy Trax. Standard specs and features may change from year to year. Contact Progressive Chevrolet with any questions regarding the new or used vehicle you're inquiring about.