Test Drive 2016 Chevy Suburban near North Canton OH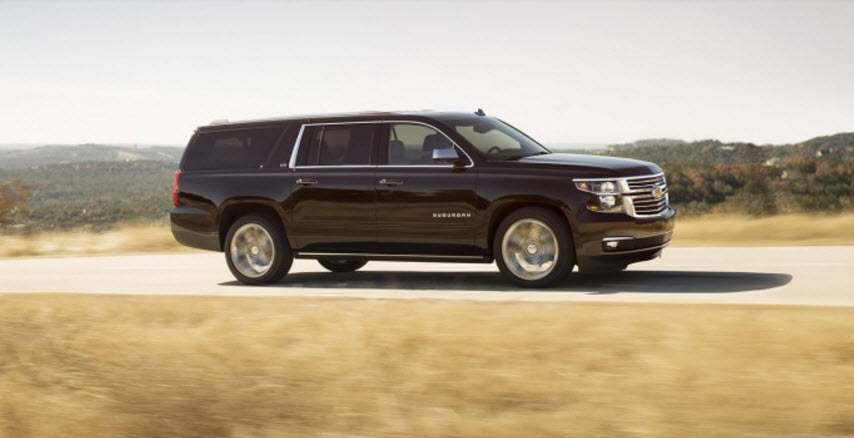 Test Drive 2016 Chevy Suburban
The Chevy Suburban has been in production since 1934, which makes it the longest running model of any vehicle in history. There's a good reason why the Suburban has been around so long, and that's because Chevy has put a lot of effort into making it a great SUV. If you are considering taking a few SUVs for a test drive, you should really consider the 2016 Suburban. It's a great car inside and out. It is loaded with technology and power, and it is a very safe car on top of everything else. If you can't wait to test drive one, schedule your test drive at Progressive Chevrolet near North Canton, Ohio. If you're still unsure, spend a few minutes with us, and let us tell you why the 2016 Chevy Suburban North Canton is a great SUV.
2016 Chevy Suburban Interior
The first thing you'll notice when you test drive 2016 Chevy Suburban is that it has a lot of room inside. There's enough room there for a driver and up to eight passengers to sit comfortably. Don't need that many passengers? There's no need to worry as the two back rows of seats can fold flat to give you 121.7 cu. ft. of cargo space. Do you work out of your vehicle? The center console is large enough to fit a laptop, and the storage in the doors fits your smaller items. You'll also notice that the interior looks quite good. Whether you choose the standard cloth, premium cloth, or the premium leather, you'll be pleasantly surprised how luxurious the Suburban is. Don't let that alone convince you. The Suburban is also quiet inside, not something typical of an SUV. Chevy worked hard to reduce noise levels in the cabin by adding insulation and triple sealing the doors. Take the 2016 Chevy Suburban North Canton for a test drive to see how quiet it really is. All in all though, the interior is quite a sight to see.
2016 Chevy Suburban Exterior
The Suburban has always been a good looking car, and the 2016 Suburban is no different. With a long, streamlined body, the Suburban has dashing looks without drawing too much attention. Do you want a bit more attention? Choose either the 18″, 20″, or 22″ rims. Chevy has given you quite a selection to choose from. Chevy has also added some technology to the outside. Are your hands full, but you need the liftgate open? Swipe your foot under the rear bumper to open it. Now that's handy. Come see that feature of the 2016 Chevy Suburban North Canton. It's a feature you will quickly come to appreciate.
2016 Chevy Suburban Powertrain
In order to tow 8,300 lbs, the Suburban is outfitted with a 5.3L EcoTec3 V8 that pushes 355 horsepower and 383 lb.-ft. of torque. The engine is also fitted with many gas-saving features in order to get the good mileage it does. Whether you're towing ATVs, trailers, or boats, the Suburban has enough power for you. Test Drive 2016 Chevy Suburban near North Canton in Massillon, and feel the power for yourself.
2016 Chevy Suburban Mechanical
Many people buy SUVs to haul people and things at the same time, and this is where the Suburban shines. It can be configured to tow up to 8,300 lbs, more than enough to satisfy any weekend warrior. When you're not towing, the ride of the Suburban is pristine. Chevy used lightweight materials to lighten the suspension, giving the Suburban an excellent ride. The suspension has also helped with fuel economy, earning the large SUV 16/23 MPG. That's fantastic for an eight-passenger vehicle. You're definitely going to want to test Drive 2016 Chevy Suburban to experience the soft ride.
2016 Chevy Suburban Safety
If you haven't left yet to test Drive 2016 Chevy Suburban near North Canton in Massillon, you'll want to after reading about its safety features. When you're hauling eight passengers, you want every one of them to be safe. The Suburban has technology to prevent accidents, to protect everyone in an accident, and to respond to accidents. To illustrate Chevy's commitment to safety, the Suburban comes with seven airbags, but there's a lot more. The Suburban has smart headlights, front and rear park assist, a rear camera, lane change alert, side blind zone alert, lane keep assist, forward collision alert, front automatic braking, adaptive cruise control, and more. In case of an accident, the Suburban also has OnStar, Chevy's premium subscription service. In case of an accident, OnStar dispatches local authorities to your accident site, giving you the help you need and the peace of mind you want. The Suburban has many other safety features. Schedule your test drive at Progressive Chevrolet, and the sales representatives will be happy to explain and show you the other safety features.Now that you know what the 2016 Chevy Suburban is about, it's time to see it in action. Test Drive 2016 Chevy Suburban near North Canton in Massillon, and we promise you'll love the Suburban. It's got a gorgeous interior, a streamlined exterior, great mechanics, tons of power, and more safety features than you could possibly imagine. Schedule your test drive at Progressive Chevrolet, and see the Suburban in action.
DISCLAIMERS
*The above information is regarding the base model 2016 Chevy Suburban. Standard specs and features may change from year to year. Contact Progressive Chevrolet with any questions regarding the new or used vehicle you're inquiring about.