Test Drive 2016 Chevy Colorado near North Canton OH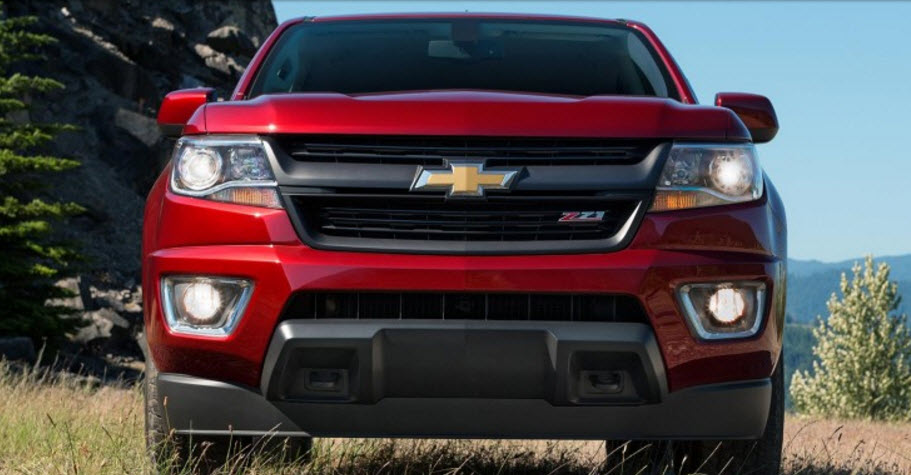 Sales Hours:
  Tue-Wed
9:00 AM – 6:00 PM
Test Drive 2016 Chevy Colorado near North Canton OH
U.S. News has named the 2016 Chevy Colorado number one among midsized trucks. Last year, when the truck was first introduced, it was named Motor Trend Truck of the Year. This year the truck has added more technology, ranging from its Duramax diesel engine to dash tech's Apple CarPlay. You can find out more when you Test Drive 2016 Chevy Colorado near North Canton in Massillon.
Interior
The 2016 Chevy Colorado North Canton offers more high-end materials, more soft-touch materials, and an ergonomic design. Reviewers have praised Chevy for designing a better cabin than other midsized rivals. The Luxury LT piles on must-have features such as automatic climate control and heated front seats. The Z71 edition offers a unique leatherette and cloth upholstery. Power front seats help the driver find a more comfortable position. You can find your best seating position when you test drive 2016 Chevy Colorado near North Canton in Masillon. The two higher trim levels are offered with the four-seat extended cab and the five-seat crew cab. When you test drive 2016 Chevy Colorado, you'll notice a long list of available dash tech features. This includes a touchscreen, helpful apps, and Bluetooth streaming audio. Pandora radio is standard. Apple CarPlay is the system's newest offering. You can enjoy up to four USB inputs, a class exclusive. In addition to the large 7-inch screen, the system also offers voice controls and steering wheel duplicate controls to simplify system operation. While you test drive 2016 Chevy Colorado, you can get a taste of how easy this system is to operate. The LT and Z71 add a seven-speaker Bose system. Every Colorado also includes an available WiFi hotspot, a feature that is lacking in most rival trucks. This 4G LTE capability is part of the OnStar system.
Exterior
The Colorado sports a sleek style that is athletic and handsome. Standards include 16-inch lightweight alloys and body-colored trim. The Luxury LT edition adds chrome mirrors, handles and bumpers. The Z71 has a dark grille surround, special 17-inch alloy wheels and LED daytime running lights. The Trail Boss trim of the Z71 edition adds DuraTrac all-terrain tires. Black is featured on the painted wheels, fender flares, and round rocker steps. The Trail Boss package adds LED trail lights on a special sport bar. For greater utility, the Colorado's bed is deeper than that of many rivals. An E-Z tailgate lets you into the bed with less stress and strain. Box configurations include short and full-size choices. You can take your choice when you Test Drive 2016 Chevy Colorado near North Canton in Massillon.
Powertrain
A class-exclusive Duramax is the newest powertrain on the 2016 Chevy Colorado North Canton. It is the only diesel in its class and one of a handful among affordable trucks. With increased towing and cargo-toting ability, this ecodiesel really delivers. It kicks out 369 lb.-ft. for the competitive acceleration that's needed to pull a heavy load. The Colorado Duramax is smooth and controlled as well as fuel efficient, according to the reviewers at Kelley Blue Book. The diesel's Centrifugal Pendulum Vibration Absorber reduces vibrations and gives this truck an extremely smooth ride. You can test drive the new Duramax or opt for one of two gas-powered engines. The standard I-4 is a best-in-class fuel-sipper. It earns 27 mpg highway, leading its class by miles. The smart V-6 kicks out 305 horsepower while still earning 24 mpg highway. Schedule your test drive at Progressive Chevrolet.
Mechanical
Like any good truck, the Colorado offers a choice of rear-wheel or all-wheel drive. On the 2016 Chevy Colorado North Canton, hill ascent control helps protect the gears when the truck moves from stop to go on an upward incline. All-wheel drive adds hill descent control to regulate gears and speed on a downward incline. For greater off-roading, the Colorado Z71 adds an inch of ground clearance. An off-road suspension and skid plates ensure that this truck can go on more adventures with less punishment. Wheel travel is wider, offering fewer limitations on the trail. Chevy test drive choices include a six-speed manual and a six-speed automatic transmission. Handling is self-assured thanks to the smaller size. Yet it can still tow up to 7,700 pounds with the Duramax engine. If you schedule your test drive at Progressive Chevrolet, you can check out these features.
Safety
The 2016 Chevy Colorado takes safety and crash avoidance seriously. In addition to a full complement of six airbags, the Colorado has the latest in traction and stability electronics. Special exterior touches include heated side mirrors and foglights. Special concave mirrors can watch the truck's blind spots. A rearview camera is standard across the line-up. When you test drive 2016 Chevy Colorado near North Canton in Massillon, be sure to ask the staff about this class-leading technology. The Colorado is one of the few midsized or light duty trucks that offers crash avoidance systems. A forward collision system warns if the truck is too close to the leader traffic. The lane watch keeps an eye on the white lines, letting the driver know if the truck strays. Test drive the when you schedule your test drive at Progressive Chevrolet, you'll have the chance to test drive the nation's newest midsized truck.
DISCLAIMERS
*The above information is regarding the base model 2016 Chevrolet Colorado. Standard specs and features may change from year to year. Contact Progressive Chevrolet with any questions regarding the new or used vehicle you're inquiring about.