Research 2017 Chevrolet Camaro Massillon OH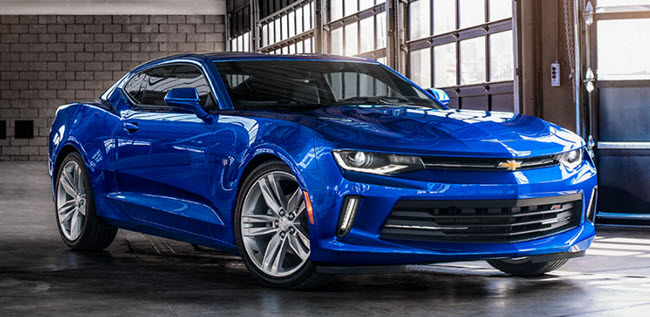 Model Vehicle Research:
Movie-star style meets tire-burning performance in the 2017 Chevy Camaro. The car took home the Motor Trend Car of the Year in 2016. It also made the list of Car and Driver 10Best. For 2017, the Camaro shares more than a first name with the Chevy Corvette. The new ZL kicks out horsepower and torque worthy of a supercar. When you research 2017 Chevrolet Camaro, you'll quickly see how value, performance, and style combine for one exciting package.
Model Strengths:
Regardless of powertrain, the 2017 Chevrolet Camaro makes the most of every horse under the hood. The weight-to-horsepower ratio is excellent thanks to the car's lightweight build. Every aspect has been designed to enhance performance and/or improve handling. Chevy is offering Magnetic Ride Control on more models. These magnetic dampers enhance driving response. A Hydra-Matic eight-speed transmission improves power outlay. In automatic mode, the system learns to read the driver, responding with better shift points to match aggressive throttle movements. With Tapshift, you can decide when to change gears. Fuel efficiency is emphasized by a four-cylinder turbo that earns 30 mpg highway. In addition, cylinder deactivation prevents fuel waste during highway cruises. This 2017 Camaro review can only give you the basics. You can ask Progressive Chevrolet internet professionals to tell you more about the Camaro's remarkable capabilities.
Model Changes:
The Camaro now offers the ZL1 edition with a supercharged V-8 from the Corvette. Computer tuning, a two-mode exhaust, and a Camaro-specific intake help this 6.2-liter powertrain kick out 640 horsepower and 640 lb.-ft. of torque. Eleven heat exchangers are needed to keep the engine cool. Chevy uses magnetoheological shock absorbers, an electronically controlled limited-slip differential and special aerodynamic tuning to ensure a racy, yet predictable response to the driver's commands. Like the Corvette Z06, the Camaro ZL1 has performance track management and a drive mode selector. Front six-piston and rear four-piston Brembo calipers are needed to keep the big brake rotors in check. The large, lower grille creates airflow as do the new front-brake cooling ducts. The new hood wears a carbon-fiber vent. 20-inch wheels with wider rear tires keep the Camaro grounded. A big front splitter and rear wing declare this Camaro's intent to rule the road and conquer the track. When you get behind the wheel, you can do your own research into this car's capabilities.
Model Value:
The Camaro always offers an affordable package. It is the muscle car for the everyday person. Adding value, every Camaro offers an OnStar WiFi Hotspot. You won't find that on competitors unless you pay for the highest trim levels. The standard MyLink system includes Android Auto and Apple CarPlay as well as a touchscreen and rearview camera. Dual power chairs and push button start are also aboard every Camaro. Then there's safety, another place where the Camaro has proven its mettle. The car has a five-star rating from the National Highway Traffic Safety Administration. To learn about pricing, check with the Progressive Chevrolet internet professionals available now.
Model Overview:
Reflecting its classic past, the 2017 Chevrolet Camaro has a unique look. Coupes and convertibles offer ample curb appeal. Cabins don't cut corners like some sports cars. Every Camaro invites you to relax with today's amenities and enjoy the benefits of today's dash technologies. Camaro power comes from a choice of powertrains. Each one adds more performance features to make the car more competitive. The base edition is powered by a four-cylinder turbo. It cranks out 275 horsepower and 295 lb.-ft. of torque. This turbo also helps the Camaro save at the gas pump. A traditional V-6 kicks out 335 horsepower with 284 lb.-ft. of torque. These are paired with the HydraMatic transmission. The third powertrain is a specially tuned 6.2-liter V-8. Drivers will command 455 horsepower and 455 lb.-ft. of torque. The manual transmission has automatic re-matching for precision downshifts. After reading this 2017 Camaro review, the best way to research 2017 Chevrolet Camaro is a test drive.
Model Key Trim Features and Positive Review / Accolade:
The Camaro comes in 1LT, 2LT, 1SS and 2SS editions. You can't go wrong with the 1LT. Drivers enjoy the benefits of an eight-way power seat, a tilt-telescopic steering wheel, push button start, a rearview camera and the Chevy MyLink touchscreen. The 2LT packs on comforts, including dual-zone automatic climate control and heated/ventilated front seats. Packages and higher editions add fun stuff like ambient lighting and a wireless charger. Sporty styling, a flat-bottomed steering wheel, and Recaro seats dress the Camaro for faster driving. The 2SS has leather seats with suede inserts. Advanced safety systems include a rear cross-traffic alert, a blind spot monitor, and lane departure warning. The 1LT and 2LT are V-6 editions. With the RS package, they become even sportier with a rear deck spoiler, bigger wheels, and a special grille. The 1SS and 2SS are V-8 editions. Brembo brakes, a sport-tuned suspension, and a track driving mode make these editions even more competitive. The 1LE editions have a satin black hood, unique three-piece rear spoiler and special front mirrors.
"You shouldn't pass up the chance at a test-drive. With new hardware underneath and multiple available engines, you might be surprised by the Camaro's newfound levels of handling and performance." — Edmunds
DISCLAIMERS
*The above information is regarding the base model 2017 Chevrolet Camaro. Standard specs and features may change from year to year. Contact Progressive Chevrolet with any questions regarding the new or used vehicle you're inquiring about.