Ohio Chevy Quotes – 2017 Chevrolet Bolt EV l Massillon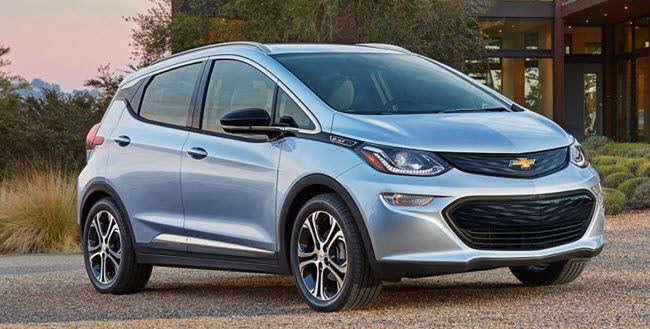 Ohio Chevy Quotes – 2017 Chevrolet Bolt EV l Massillon
Making waves at the 2016 Consumer Electronics Show and the 2016 North American International Auto Show, the revolutionary Bolt EV has arrived. With the exception of high-priced Teslas, this car has double the range of other electric cars for sale today. There's never been a better time to request a 2017 Bolt EV quote from Progressive Chevrolet Massillon. If auto analyst Kelley Blue Book and tech guru Digital Trends are correct, the Bolt EV subcompact is the next big thing. It's here to prove that long-range electric travel is possible, and it can be had at an affordable price.
Interior
As Digital Trends has written, the Bolt EV could be called a compact CUV with the roominess of something two segments larger. Engineers found extra room in the cabin because less room is needed under the hood. A floating center stack adds to the roominess. Front seat passengers have more legroom and more knee room. The roof is higher, ensuring more headroom. The flat floor also provides more legroom on the second room. This also makes entry easier. The hatchback offers a generous 16.9 cu.ft. with an available hidden compartment and standard fold-flat seats. The car's generous interior size adds to its intrinsic value. If you grab 2017 Bolt EV quotes, you'll see how this car's pricetag can appeal to those on a budget. On the dash, every Bolt EV has a 10.2-inch tablet. Simple, intuitive gestures enhance its touch capabilities. The large screen allows split views of audio and navigation screens. In fact, you can choose an expanded view for one side of the split. Visibility is guaranteed by day and night modes. WiFi is available with the OnStar system. The eight-inch driving screen helps you keep up with battery levels and estimated range. To learn about pricing, you can request 2017 Bolt EV quotes from Progressive, your Ohio Chevy Bolt EV dealer serving Massillon Canton Akron Wooster Ohio.
Exterior
With its high roof and wide windows, the 2017 Chevrolet Bolt EV has an SUV-like stance. Each nip and tuck of the exterior adds curb appeal while also ensuring an aerodynamic flow. The weight distribution has been carefully monitored to give this vehicle a better center of gravity than the average gas-powered car. Wrapping the package, attractive sheet metal speaks to this car's value. Sweeten the deal for buyers, there is a government rebate for this environmentally-sound ride. You can learn about the latest specials from Progressive, an Ohio Chevy Bolt EV dealer serving Massillon Canton Akron Wooster Ohio.
Powertrain
A nickel-rich lithium-ion battery powers this all electric ride. The 200-mile range is sure to erase any range anxiety. Using zero gasoline, this car can go further than any other electric car in its affordable price range. Ohio Chevy 2017 Chevrolet Bolt EV quotes can give you more details about affordability. Adding to its aerodynamics, engineers have created a low-profile underbody through careful battery cell arrangement. The available 240-volt charging unit charges fully in nine hours. Adding to effective power outlay, the car is equipped with Electronic Precision Shift. When you request a 2017 Bolt EV quote from Progressive Chevrolet Massillon, you are invited to learn more about this remarkable technology.
Mechanical
Digital Trends notes that the car's handling is buttoned-up, solid, and agile. The battery doesn't burden it because it has been spread out so carefully. An extra steel beam adds stiffness when cornering. In its effort to change the dynamics of the daily commute, the Bolt EV reacts each time the driver is stuck in stop-and-go traffic. At an appropriate interval, the car starts braking for itself, reacting when the driver takes a foot off the accelerator. When gridlock ends, the accelerator recognizes this and returns the power to the brake pedal. If you are ready to change your commute for the better, check out Ohio Chevy 2017 Chevrolet Bolt EV quotes from your Ohio Chevy Bolt EV dealer serving Massillon Canton Akron Wooster Ohio. 2017 Bolt EV quotes are a fun way to learn more about this exciting new car.
Safety
The 2017 Chevrolet Bolt EV takes safety quite seriously. With ten airbags, it beats the competition by providing extra protection for both rows of riders. Although the build has been created for agility, the frame has been created for protection. High-strength steel holds its shape against crash force. The knowledgeable Progressive staff can tell you more about standard safety features when you request Ohio Chevy 2017 Chevrolet Bolt EV quotes. To help the 2017 Chevrolet Bolt EV avoid collisions, there are numerous warning systems. The forward pedestrian alert keeps an eye out for walkers and joggers. Slowing traffic is the business of the forward collision alert. A blind zone alert warns the driver about incoming side traffic. In reverse, the rear cross-traffic alert performs a similar role. GM's active-feed rear-view mirror is an exclusive feature that's setting the bar higher for the competition. When you need more information, you can turn on an 80-degree rearview camera. The live feed appears in the rearview mirror. This shows everything behind you, including cars in your blind zone. On the dash screen, you can enjoy the help of a bird's-eye camera system for parking maneuvers. For the most up-to-date information about Bolt specials, you can request a 2017 Bolt EV quote from Progressive Chevrolet Massillon. Consider this your invitation to experience what this electric car can do for you.
DISCLAIMERS
*The above information is regarding the base model 2017 Chevrolet Bolt EV. Standard specs and features may change from year to year. Contact Progressive Chevrolet with any questions regarding the new or used vehicle you're inquiring about.