Akron OH Area – 2017 Chevrolet Equinox Quotes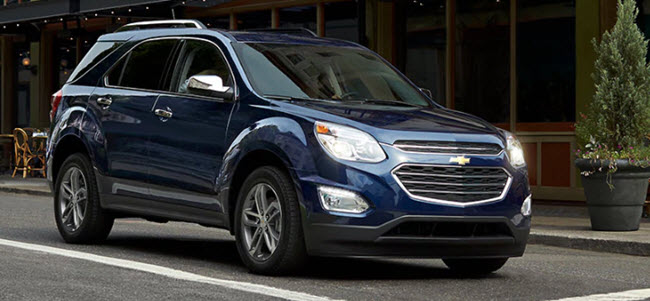 Akron OH Area – 2017 Chevrolet Equinox Quotes
Fuel efficient, flexible and fantastically flashy are three terms that only begin to describe what your experience with the 2017 Chevrolet Equinox will be like. Chevy crafted the Equinox to give you the highest level of comfort no matter what type of journey you are taking it on. The 2017 Chevrolet Equinox can give you comfort during a long ride to a business trip, entertainment on the way to a vacation, or the space that you need while you are conducting a move. Chevy did such an amazing job when it developed this vehicle that it won more than one award from J.D. Power. It won an award for the "Highest ranked SUV in initial quality" two years in a row, and it won one for the "Most Dependable Compact SUV." Contact a Chevy Equinox dealer serving Akron Massillon Canton Ohio today and ask for Akron OH area 2017 Chevrolet Equinox quotes. Jump in to catch the 2017 Chevrolet Equinox experience.
The 2017 Equinox Interior
The Equinox interior is made for comfort and convenience. Ask for Akron OH area 2017 Chevrolet Equinox quotes from a nearby dealership and then go on a test-drive to experience the interior. The manufacturer had cargo space and prestige in mind when it developed the interior concept. First of all, the unit has 63.7 cubic feet of cargo space so that you and your passengers can fit everything in the vehicle for your trip. The leg room, shoulder room and headroom are all more than fair (approximately 41/41/56) for you and your passengers, as well. You'll have access to premium leatherette seating and comfortable padding that can keep your bottom feeling good for hours.
Exterior Features
The Equinox exterior is sweet to say the least. It is an attractive shell that is not too rounded and not too boxy. The color options that you have to choose from are quite jazzy and will get some stares from your onlookers. The bold grille and the accented lighting are two additional features that will make you fall in love with the model. Some of the most popular colors that you have to choose from are colors such as Black, Patriot Blue Metallic, Siren Red Tintcoat, Iridescent Pearl Tricoat, Mosaic Black Metallic, Tungsten Metallic, Patriot Blue Metallic, Summit White, Silver Ice Metallic and more. Choose the color that best suits your personality and your preferences. Akron OH area 2017 Chevrolet Equinox quotes are available from the local dealer.
The Powertrain
The powertrain on the Equinox is robust and powerful, but it still produces notable fuel efficiency. You have a choice between a 2.4-Liter engine and a 3.6-Liter engine. The 2.4-Liter engine is a four-cylinder option that will give you some amazing fuel efficiency. The 3.6-Liter option is the option that will give you the most kick. You can get about 301 horsepower from it. The Equinox is a more efficient choice than some other vehicles in its class such as the Toyota RAV4. It will definitely compliment your wallet if you choose it for your trips. Request a 2017 Equinox quote from Progressive Chevrolet today to see if you can grab this wonderful opportunity.
Mechanical Features
The Equinox comes jam packed with enough features and gadgets to keep you and your passengers thoroughly entertained. Just a few of the features that you will have at your disposal are features such as Chevrolet MyLink, Siri Eyes Free, 4G LTE Wi-Fi, OnStar Remote Link and more. The OnStar Remote Link system makes it easy for you to start your car from your movie phone. The Siri Eyes Free system allows you to tell your vehicle what you want it to do and have the vehicle do it for you. The 4G LTE Wi-Fi system is great because it gives you the opportunity to connect your electronic gadgets to the car and use them for various purposes. You can browse the Internet, do school work and perform a series of job tasks if you like. Request a 2017 Equinox quote from Progressive Chevrolet today.
Safety Features
Request a 2017 Equinox quote from Progressive Chevrolet and ask about the safety features. Chevy made sure it put all the right safety features in this model so that you would have the safest ride possible. You have access to features such as Side Blind Zone Alert, Rear Vision Camera, Rear Cross Traffic Alert, Automatic Crash Response and more. You will also have access to six standard air bags. The Equinox received recognition from the Insurance Institute for Highway Safety in 2015 and 2016 for having so many wonderful safety features. Visit a Chevy Equinox dealer serving Akron Massillon Canton Ohio and check all the safety features. Call your local dealership today and schedule a test-drive of the Equinox. The Equinox is a fabulous choice of SUV vehicle because of its features, its space and its fantastic design. A local dealer will be glad to take you on a trip around town so that you can experience everything that the Equinox has for you. If you find that the SUV is the right fit for you, you can then visit the finance department to try to get a deal so that you can drive the Equinox home today. You will be glad you stopped by and took a chance. Call a Chevy Equinox dealer serving Akron Massillon Canton Ohio today to schedule an appointment.
DISCLAIMERS
*The above information is regarding the base model 2017 Chevrolet Equinox. Standard specs and features may change from year to year. Contact Progressive Chevrolet with any questions regarding the new or used vehicle you're inquiring about.