2017 Colorado ZR2 Massillon Canton Ohio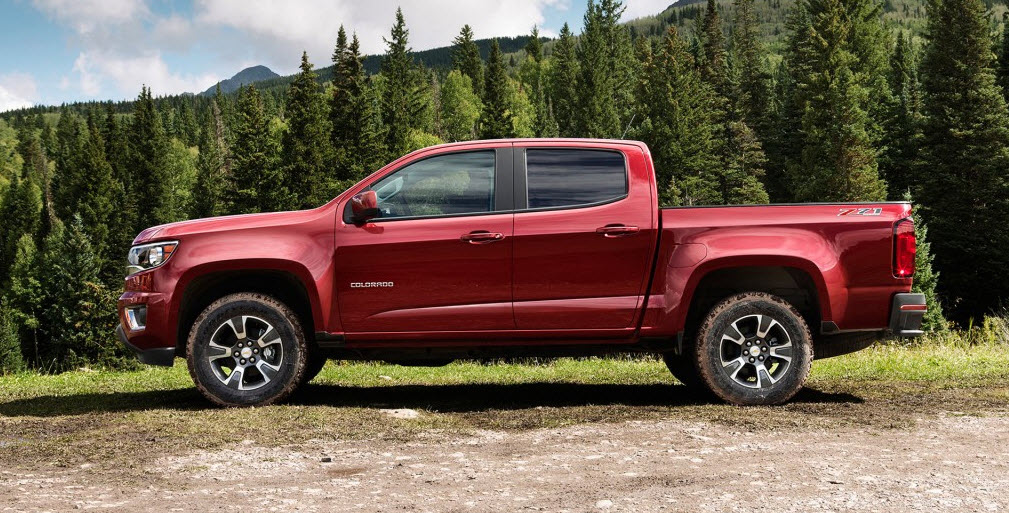 Sales Hours:
Tue-Wed
9:00 AM – 6:00 PM
2017 Colorado ZR2 Massillon Canton Ohio
If you're a trail rider or a dirt dabbler, you will absolutely love the 2017 or 2018 Chevrolet ZR2. The 2018 Chevrolet ZR2 is the kind of truck that you can get down and dirty with and then get back on the highway like nothing ever happened. Chevy equipped this one for off-road action, and it comes to you right off the lot ready to run wild. The model has multimatic shocks, which are exclusive to the model. Multimatic Shocks are shocks that use the Dynamic Suspensions Spool Valve technology. The feature was originally for race cars, but the manufacturer is now using it with various models. The following is some additional information about the ZR2 that you can review before you contact a Ohio Chevy dealer.
The 2018 Chevrolet ZR2 Interior
A lot is to be said about the ZR2's interior, but you still won't quite understand until you come in and get behind the wheel. The Manufacturer did the best it could to accommodate drivers and passengers in every way. The seating is ergonomically satisfying because of the thought that the manufacturer put into making sure everyone in the vehicle would be happy. Other positive aspects do exist, but you have to come and see them in person. There is nothing like an up close and personal look at a vehicle that you want to buy. Contact Progressive Chevrolet serving Massillon Canton Akron Ohio.
2018 Chevrolet ZR2 Review: Exterior
The ZR2 Exterior stands apart from the rest of the models in its class. Aside from its alluring and enticing frame, it has a cowl hood and aggressive frame that makes it unique. Consumers are going crazy trying to grab hold of one of those models because they are so captivating. You will be the envy of your friends and family members if you hop into one of these for the holidays. This vehicle will definitely turn some heads for you quite well. Contact Progressive Chevrolet serving Massillon Canton Akron Ohio to find out more. Progressive is a reliable and well-established Ohio Chevy dealer. You can feel confident dealing with them.
2018 Chevrolet ZR2 Review Mechanical
The ZR2 has many mechanical features that you will absolutely enjoy. Call an Ohio Chevy dealer to find out more. One of the features that you will find enjoyable is the 4G LTE Wi-Fi. The Wi-Fi can connect you and your passengers to everything that you need. They can connect their laptops, tablets and other devices to the Wi-Fi to get their work done on the road. Other features that this model has are features such as MyLink, Android Auto and Apple CarPlay. MyLink offers Bluetooth connectivity for those who would like to connect wireless devices via Bluetooth. MyLink allows the driver to make phone calls and listen to music in a hands-free manner. Call an Ohio Chevy dealer for additional information.
2018 Chevrolet ZR2 Review: Powertrain
The ZR2 is perfect for you if you like power and aggression. The ZR2 comes with a diesel engine. The engine is a 2.8-Liter Duramax model. If you absolutely do not like Diesel engines, you could always go for the 3.6-Liter option. You will get amazing performance no matter which item you decide to take. This model comes with a lot of power, so you will have to have a lot of responsibility with it.
Safety Features on the Colorado ZR2
Chevrolet always makes sure the safety features are up to par. You can rest assured that you will have the highest level of protection in the vehicle Some of the top level features that you will have are features such as Forward Collision Alert, Lane Departure Warning, Rear Vision Camera and more. All of those features play a crucial role in the lives of the drivers and passengers. The Lane Departure Warning is a great feature for drivers who have to take long trips. It alerts the driver if he or she is swaying out of the lane for some odd reason. The Forward collision Alert works hard to stop accidents before they happen. All these features work together to create a system that will prevent you from becoming harmed if an unforeseen event should occur.
Are You Ready to Rock?
Are you ready for a truck that doesn't take any nonsense? Contact Progressive Chevrolet serving Massillon Canton Akron Ohio to get started with the process of getting this wonderful car in your hands. Call and schedule a ZR2 test-drive with a salesperson at the dealership today. The salesperson will take you on a 15-minute run in the vehicle so that you can get a feel for its power, features and comfort level. If you find that you absolutely love the ZR2 and want to take it home, you can speak to a financial specialist about it. The specialist will try to get you the best deal possible on it so that you can have the keys and drive it to your destination. When you visit the facility, make sure that you have your identification with you as long as any proof that you have of your weekly or monthly pay. The finance department will factor that information into the figure that you get or your payments. Soon you will be the proud owner of a truck that neighbors will surly envy.