2017 Chevy Volt near Canton Ohio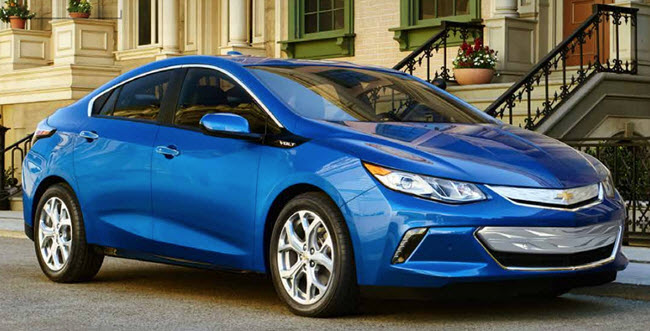 Sales Hours:
  Tue-Wed
9:00 AM – 6:00 PM
2017 Chevrolet Volt near Canton from Massillon Ohio
Many car buyers are waiting anxiously for the new 2017 Chevy Volt near Canton Ohio to be available for sale, and there is good reason for this. The Ohio Chevrolet Volt is now in its second generation, and it has been revamped in a number of exciting ways. In fact, some are pre-ordering the Volt through their Massillon Chevrolet Volt dealer serving North Canton Akron New Philadelphia Ohio. You can request 2017 Chevy Volt information from Progressive Chevrolet today, and you can be one of the first to take this car for a test drive when it arrives on the lot soon.
Interior – Request 2017 Chevrolet Volt Information Progressive Chevy Massillon near Canton Akron OH
For those who are in the market to purchase an innovative Extended Range Electric Vehicle, or EREV, the 2017 Chevy Volt makes perfect sense. At your Massillon Chevrolet Volt dealer serving North Canton Akron New Philadelphia Ohio, you can learn more about what the new Volt has to offer by speaking with a friendly representative. The vehicle will be available with a two tone interior that features color combinations of jet black, light ash, dark ash and brandy. As with previous years, the 2017 Chevy Volt near Canton Ohio will have passenger seating for up to four adults. The console and dash continue to have an innovative look that drivers love, but there have been a few changes to the features and the overall interior design. For example, there is now an assisted OnStar guidance feature, full-speed adaptable cruise control, a new driver data screen with an energy usage score, a diagnostic program that sends alerts when the gas engine is used and others. This is combined with other features that remain the same from previous years, such as a sound system, blue ambient lighting, a touch-screen control dash feature and others. Some new features are only available with upgraded trim packages, and you can request 2017 Chevy Volt information from Progressive Chevrolet today to learn more about the interior features available.
Exterior – Massillon Chevrolet Volt dealer serving North Canton, Akron, and New Philadelphia Ohio
At your Ohio Chevrolet Volt dealer, you will discover that this electric vehicle has the same great style that previous model years have had with only slight changes. Many drivers love the Volt because it does not have the standout look of an electric vehicle. Instead, it has an eye-catching body style that is both sleek and athletic. It is available in a number of fabulous color options for 2017, and these options include siren red, mosaic black, heather gray, kinetic blue, silver ice, iridescent pearl, summit white and others. The look of the 2017 Chevy Volt near Canton Ohio is enhanced with 17-inch alloy wheels, a metallic grille with a signature look and more. Some models also have LED headlamps, a light in the body color door handles and rear view mirror caps and other features that you will love. Altogether, the new Ohio Chevrolet Volt has an appealing look that anyone who wants to drive a sporty four-door vehicle will love.
Powertrain – Arizona Chevy Volt Sales and Service in Massillon near Canton Akron Ohio
The 2017 Chevy Volt has a well-designed powertrain with features that are 100 pounds lighter than the last year's model. This improves fuel economy and gives the car a zippier performance. The 1.5-liter, four cylinder engine has a powerful rapid acceleration feature, and it registers with 42 miles per gallon. It also has an enhanced battery compared to previous model years, and this year's model has 18.4-kilowatt hours, and it can be fully charged in only 4.5 hours. Altogether, the powertrain on this vehicle is undeniably enhanced, and those who have been on the fence about buying an electric vehicle or who want to make an upgrade will love all that the 2017 Chevy Volt near Canton Ohio has to offer.
Mechanical – Progressive Chevrolet
At your Massillon Chevrolet Volt dealer serving North Canton Akron New Philadelphia Ohio, you can also learn more about the innovative mechanical features available in this car. This is a vehicle that uses battery power, and the power source will switch to gas when the battery supply gets low. The battery can be charged through an at-home station available with your purchase of the Volt. The Voltec propulsion system is designed to make the vehicle more powerful while conserving gas. You will find that you can drive up to 53 miles on a single battery charge, and you can also travel up to 420 miles with a combination of gas and battery on a single fill-up and battery charge. This vehicle also comes with several different warranties for basic coverage and more. Autonomous versions will be available in very limited supply for the next year as well.
Safety
When you request 2017 Chevy Volt information from Progressive Chevrolet, you will find that this car has been thoughtfully appointed with many safety features. For example, in the 2017 Chevy Volt, you will find a total of ten airbags, a zone alert, a rear cross traffic alert, a lane change alert, a forward collision alert, a lane departure warning, high beam assistance and more. There are also harness-style seat belts and head rests. The 2017 Chevy Volt is the innovative EREV that you may be interested in buying in the coming year. With the new innovations in the Ohio Chevrolet Volt and with many of the most popular features from the last model carrying forward, this is a vehicle that you want to take a closer look at when it is available.
DISCLAIMERS
*The above information is regarding the base model 2017 Chevrolet Volt. Standard specs and features may change from year to year. Contact Progressive Chevrolet with any questions regarding the new or used vehicle you're inquiring about.