2017 Chevy Bolt EV Quotes to Akron Ohio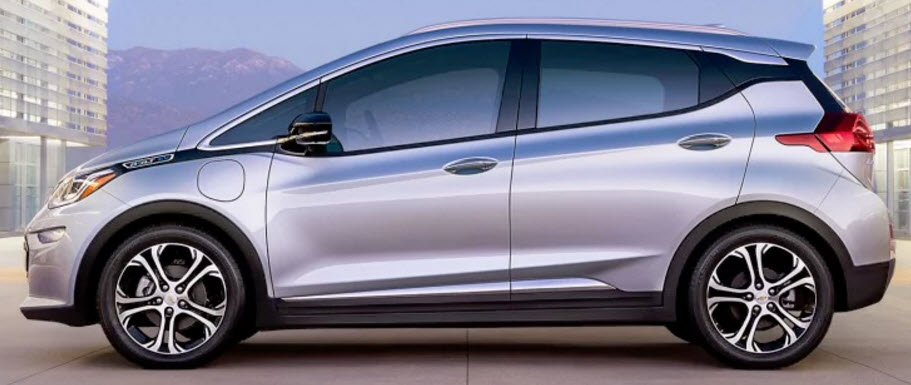 2017 Chevy Bolt EV Quotes to Akron Ohio
According to Kelley Blue Book, the 2017 Chevy Bolt EV is nothing short of a game-changer. The new all-electric car has the longest range of any affordable vehicle. If you are looking for a better car, the Bolt may be exactly what you need. To claim your best price, talk to your Chevrolet Cruze Hatchback dealer serving Akron internet shoppers. It's simple to request a 2017 Chevy Bolt EV Quote.
Interior
The well-proportioned interior seats four in ample spaciousness. One reviewer notes that this makes the Bolt compare favorably to larger gas-powered crossovers in terms of space. Eliminating the gas engine means that there is more front row legroom, and the car's flat floor gives backseat passengers plenty of legroom. Adding to the roomy feel, the floating center stack adds extra front-row knee room. A high roof ensures considerable headroom. Even the windows are designed to give you a feeling of spaciousness. See how prices compare to regular crossovers by asking for 2017 Chevy Bolt EV Quotes to Akron Ohio. The 16.9-cu.ft. cargo hold expands easily with flat-fold seats. A hidden storage compartment adds another way to haul your stuff safely. The cockpit is anchored by an eight-inch driver cluster. You can control charge settings, watch over battery levels, and keep up with the car's estimated range. In addition, a 10.2-inch infotainment tablet is in close reach to the driver. You'll appreciate the expanded touch capability of this smart screen. Reducing response times, the display requires simple, intuitive gestures that you already use every day with your smartphone or tablet. Auto-response programming ensures that the screen adjusts itself to match lighting conditions. WiFi is welcomed aboard by the OnStar system. Digital Trends notes that Chevy has combined high tech engineering and high tech features in a package that is more affordable for more people. Learn about trim levels by asking for Akron area 2017 Chevrolet Bolt EV quotes.
Exterior
Striking an SUV-like stance, the 2017 Chevrolet Bolt EV is a handsome hatchback. The spacious interior layout is housed by a deliberately trim exterior. This slimness allows for better air flow, which is further enhanced by aerodynamic lines. These nips and tucks add to the car's curb appeal. High quality sheet metal finishes off this contemporary package. Sweetening the deal, government incentives make this all-electric car a good deal. You can learn more from 2017 Chevy Bolt EV Quotes to Akron Ohio. When you contact your Chevrolet Cruze Hatchback dealer serving Akron internet shoppers, you can get the latest information about Chevy financing.
Powertrain
In the 2017 Chevy Bolt EV, performance reflects the car's careful construction as well its power outlay. Offering horsepower and torque that you'd find on any gas-powered car of this size, the Bolt EV manages to travel without using one drop of gasoline. Users can expect an average of 25 miles per charge. This caps at 200 miles, making this the longest-range electric vehicle that is also affordable. The car's affordability makes this a budget-friendly choice as you can learn from Akron area 2017 Chevrolet Bolt EV quotes. Engineers arranged the battery cells to permit a low-profile underbody for aerodynamic flow. Furthermore, this arrangement ensures an optimal center of gravity. Drivers will notice that this allows for better ride quality and handling. A 240-volt unit is available, fully charging this car in nine hours. This is one car that pays for itself by zeroing out gasoline costs. Take advantage of the latest specials and financing deals. Request a 2017 Chevy Bolt EV Quote.
Mechanical
Extensive electronic controls add to the car's ability to head off problems before they affect stability or traction. GM's new Electronic Precision Shift is designed to match shifting to power outlay, smoothing both acceleration and deceleration even as it prevents energy waste. You can learn more by contacting your Chevrolet Cruze Hatchback dealer serving Akron internet shoppers. The Bolt EV may revolutionize the daily commute in ways that go beyond its terrific mileage range. The car is engineered to react to the brake-accelerate-brake pattern that comes with stop-and-go traffic. This system learns quickly, eliminating the need for you to actually brake. Each time you lift your foot from the accelerator the car stops. Drivers can still control the process, and the system returns to normal once the traffic flow allows it. For those who experience gridlock each morning and evening, this is sure to relieve stress. 2017 Chevy Bolt EV Quotes to Akron Ohio are a good way to learn more without making a commitment.
Safety
With ten airbags, you can bet safety is a hallmark of the 2017 Chevy Bolt EV. The frame is infused with high-strength steel to promote strength and durability. An active-feed rearview mirror is a GM exclusive. This allows you to switch from a traditional view to an 80-degree camera feed. Whether for parking or passing, this revolutionary new feature makes you and your passengers safer. In addition, you can enjoy the help of a bird's-eye camera system which broadcasts to the regular dash screen. This advanced car also offers a forward pedestrian alert, a frontal collision alert, and a blind zone monitor. All of this safety comes at an affordable price. To get your best deal, request a 2017 Chevy Bolt EV Quote. Now is the time to take a test drive. Be sure to request Akron area 2017 Chevrolet Bolt EV quotes.
DISCLAIMERS
*The above information is regarding the base model 2017 Chevy Bolt EV. Standard specs and features may change from year to year. Contact Progressive Chevrolet with any questions regarding the new or used vehicle you're inquiring about.