2016 Chevy Spark EV near North Canton OH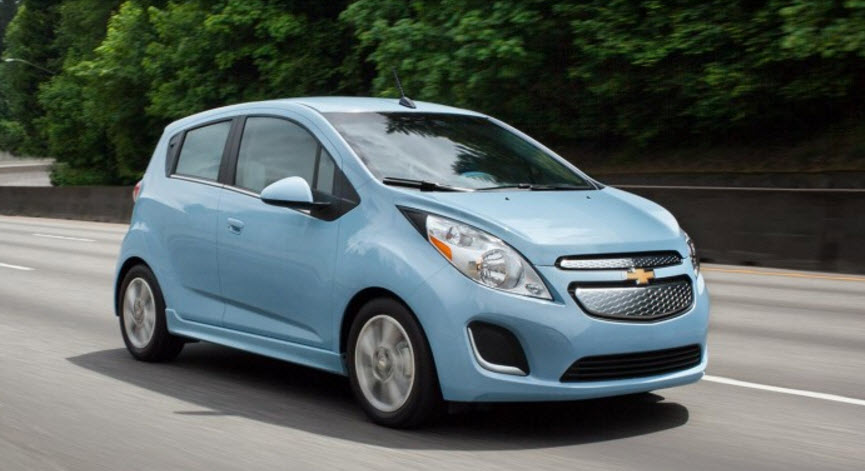 2016 Chevy Spark EV near North Canton OH

Chevrolet is a leading provider of high quality vehicles that the company builds to last for many years. Chevrolet vehicles are excellent for providing owners with high fuel efficiency, as well. The Chevrolet Spark is a vehicle that has the innovative electrical system that allows drivers to maximize their travels. The car has a lithium ion battery that is built to last and save drivers from the fuel expenses. The following is some information on the 2016 model for consumers to review. People will love the spark if they are looking for an affordable economy sized vehicle that will be efficient at getting them back and forth to their endeavors.
The 2016 Spark EV Interior

The interior of the 2016 Spark EV is comfortable and accommodating. From the outside, the Spark looks like a tiny vehicle, but the inside tells a completely different story. The Chevrolet Spark has more than 86.3 cubic feet of room on the inside, and it has more than 23.4 cubic feet of storage space. The vehicle can conveniently fit four people in it and make those people comfortable. The 2016 Spark EV has several features that accommodate the passengers. Passengers have access to features such as front beverage holders, power windows, air conditioning, automatic temper control and the like.
2016 Chevy Spark EV serving North Canton: Exterior

The exterior of the 2016 Chevy Spark EV serving North Canton is adorable, and its color choices are attractive. It makes up for its small size with an alluring grille, blue accents and a generous amount of chrome to give it some class. Consumers can choose from colors such as Jalapeno Green, Salsa Red, Splash Metallic Blue, Electric Metallic Blue, Lime Metallic and so much more. The 2016 Chevy Spark EV serving North Canton focuses on personalization for the consumers.
Powertrain Information

The 2016 Chevy Spark EV review for North Canton Massillon shoppers raves about the powertrain features. The vehicle sports an amazingly powerful electric vehicle that has 327 max pounds of torque and the ability to push from 0-60 miles per hour in 7.2 seconds. The electric motor produces 130 horsepower and a traveling efficiency of about 129 miles in the city from a single charge. The amazing thing about the battery operated vehicle is that charging does not take long. The estimate charge time is less than 30 minutes. The battery is capable of receiving 80 percent of its charge within the first 20 minutes at the charge station. The Spark EV is a true champion when it comes to providing the consumers with the zip appeal that they love and desire. People who love quick economy vehicles will contact Progressive Chevrolet for Spark EV pricing and information today.
Mechanical Aspects
All consumers will want to contact Progressive Chevrolet for Spark EV pricing and information after reading about the mechanical features and all the technology that Chevrolet packs into this vehicle. The Spark EV has features such as 4G LTE WI-Fi, OnStar remote operations, navigation, Chevrolet MyLink, music, connections to friends and family and more. The remote mobile application allows vehicle drivers to start their vehicles from a remote location. They can perform other tasks such as locking the doors, unlocking the doors, checking the battery level and viewing miles per charge at any time. The navigation system is a driver's best friend because it provides that person with turn-by-turn information so that he or she never gets lost in the mix of things. A salesperson can get into detail about the myriad of features just as soon as a person takes a step to contact Progressive Chevrolet for Spark EV pricing and information.
Safety Features for the 2016 Chevy Spark EV

Safety is a deep concern for any person who purchases a small-size car. Chevrolet made sure that it covered all bases when it created the little Spark. A recent 2016 Chevy Spark EV review for North Canton Massillon shoppers suggested that the Spark is one of the safest vehicles of this age. It comes with safety features such as a sturdy steel safety cage, 10 standard airbags, Hill Start Assist, StabiliTrak, OnStar Automatic Crash Report and more. New vehicle owners can feel confident enough to develop their own positive 2016 Chevy Spark EV review for North Canton Massillon shoppers. Reasons to Schedule a Test-Drive: Reading about a vehicle and looking at it usually doesn't do it its full justice. An interested person will want to find a Massillon Chevy dealer near North Canton and stop in for a test-drive. A test-drive at a Massillon Chevy dealer near North Canton will allow the curious consumer to personally sit inside the vehicle and experience the comfortability of the Spark EV. Next, the consumer can control the vehicle and take a real drive at the Massillon Chevy dealer near North Canton. Nothing is quite like getting behind the wheel of a vehicle of interest and personally taking it for a ride. Driving home in a 2016 Chevrolet Spark EV is quite possible for interested persons. Consumers can apply for loan pre-approval, and they can speak with the salesperson about a possible deal on a new vehicle, as well. The goal of the Chevy dealer is to work with the consumer as much as possible to get him or her the desired car. The Spark EV is an innovative choice that embraces modern technology and full consumer accommodations.
DISCLAIMERS
*The above information is regarding the base model 2016 Chevy Spark EV. Standard specs and features may change from year to year. Contact Progressive Chevrolet with any questions regarding the new or used vehicle you're inquiring about.