2016 Chevy Camaro serving North Canton OH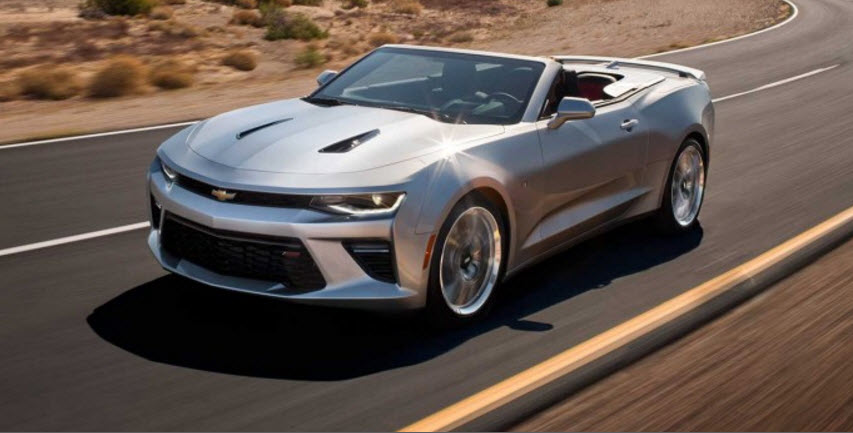 2016 Chevy Camaro

When you are looking for a true sports car that offers classic styling and plenty of performance, check out the 2016 Chevy Camaro. As a real American classic muscle car, the Carmao is the right vehicle for someone who wants a sporty vehicle while being fuel friendly and a great car for every day use. When you are ready to check out a real sports car, visit your local Chevrolet dealer or take a look at the 2016 Chevy Camaro serving North Canton. The 2016 Camaro is the latest in a long line of Carmao classics that were first manufactured in 1967 and became an instant success among the classic muscle cars of the 60's. The Carmao has continued to be a favorite design among sports car enthusiasts and the 2016 Camaro looks to continue its popularity. Check out the 2016 Chevy Camaro specials to North Canton Massillon shoppers or contact Progressive Chevrolet for Camaro specials in Ohio.
Interior
The 2016 Chevy Camaro serving North Canton includes many interior features that provide you with a comfortable driving experience. A few of those features include plenty of leg and head room with a larger cabin space, height-adjustable driver and front passenger bucket seats with 8-way power adjustable feature and folding rear seat-back as well as a leather steering wheel with tilt and telescopic system and electronic steering, climate control features, dual vanity mirrors, sun sensor and front door pockets. The interior also includes sculpted lines and a cockpit styling that offers a sophisticated look with interior spectrum lighting, a center interior cluster control video screen that integrates your entertainment features with a navigation system and voice activation for better control while providing hands free capability. The interior offers 24 different color options for better interior styling to match your personality.
Exterior
A great deal of the 2016 Camaro appeal is due to the classic exterior styling that is reminiscent of the original design. The exterior features a lightweight architecture with a slimmer body style that has been lowered for better handling and control. The exterior also includes a fastback profile with aerodynamic styling, an upgraded front grill design, variable intermittent windshield wipers, painted 18-inch alloy wheels with all season tires and flexible air dams that allow for more air flow in the engine compartment. The exterior also offers a slimline glass surface that reduces the glare from the sun as well as dramatic headlamp and daytime running light designs. The 2016 Camaro includes 10 different exterior color options and is available in both a coupe and convertible model style.
Powertrain
The Chevy Camaro is powered by a 3.6 liter V-6 direct fuel-injection engine with variable valve timing and 8-speed automatic transmission that generates up to 335 horsepower and can achieve up to 22 mpg in the city and up to 31 mpg on the highway. The vehicle also offers an optional 2.0 liter turbo or 6.2 liter V-8 engine for even greater performance. The active fuel management system allows the engine to shut off the cylinders that are not being used to provide for better fuel economy while maintaining great performance. The Camaro can go from 0 to 60 in 4.0 seconds and provides plenty of power. If this sounds like the kind of sports car you are looking for, check out the local dealers for the 2016 Chevy Camaro serving North Canton or contact Progressive Chevrolet for Camaro specials in Ohio.
Mechanical
The Camaro includes a number of mechanical advancements and features that give the vehicle its great performance ability. A few of those features include modifications to the vehicle that make it an average of 300 lbs lighter than previous models and includes a dual-core performance exhaust system that gives the vehicle more power and a magnetic ride control that allows the suspension system to react quickly, offering a much smoother ride. The multi-link MacPherson strut suspension also gives the vehicle more control around sharp turns and tight corners. The vehicle has been designed to offer a lower profile with lighter advanced materials that reduce the weight while offering greater strength and wider wheel base for better handling and more speed.
Safety
Your local Chevrolet dealer offers several 2016 Chevy Camaro specials to North Canton Massillon shoppers. The Camaro also includes a number of safety features to protect the driver and passengers while traveling. A few of the safety features include high intensity discharge headlamps for greater visibility while driving, power adjustable exterior mirrors, a rear vision camera to help with visibility behind the vehicle while backing up, front airbag system along with side curtain airbags to help protect occupants in the event off a collision and an OnStar system that connects you with emergency personnel in the event of a crash or other emergency situation. When you are ready to take a test drive of the Camaro, contact your local Chevy dealer. They can offer plenty of 2016 Chevy Camaro specials to North Canton Massillon shoppers or you can contact Progressive Chevrolet for Camaro specials in Ohio. Test drive the 2016 Chevy Camaro today and you might find yourself driving home a brand new car.
DISCLAIMERS
*The above information is regarding the base model 2016 Chevy Camaro. Standard specs and features may change from year to year. Contact Progressive Chevrolet with any questions regarding the new or used vehicle you're inquiring about.